The Schedule feature allows you to manage working hours and date schedules for the Campaigns. You can configure the start/stop time range for campaign processing, weekdays or date ranges, sold and post lead limits.
To configure the Schedule settings for Campaign, go to the Client Management > Setup > Campaigns section. Then select the Campaign and click the "Configure" button in the "Actions" column. In the "Campaign Setup" module, go to the "Schedule" tab.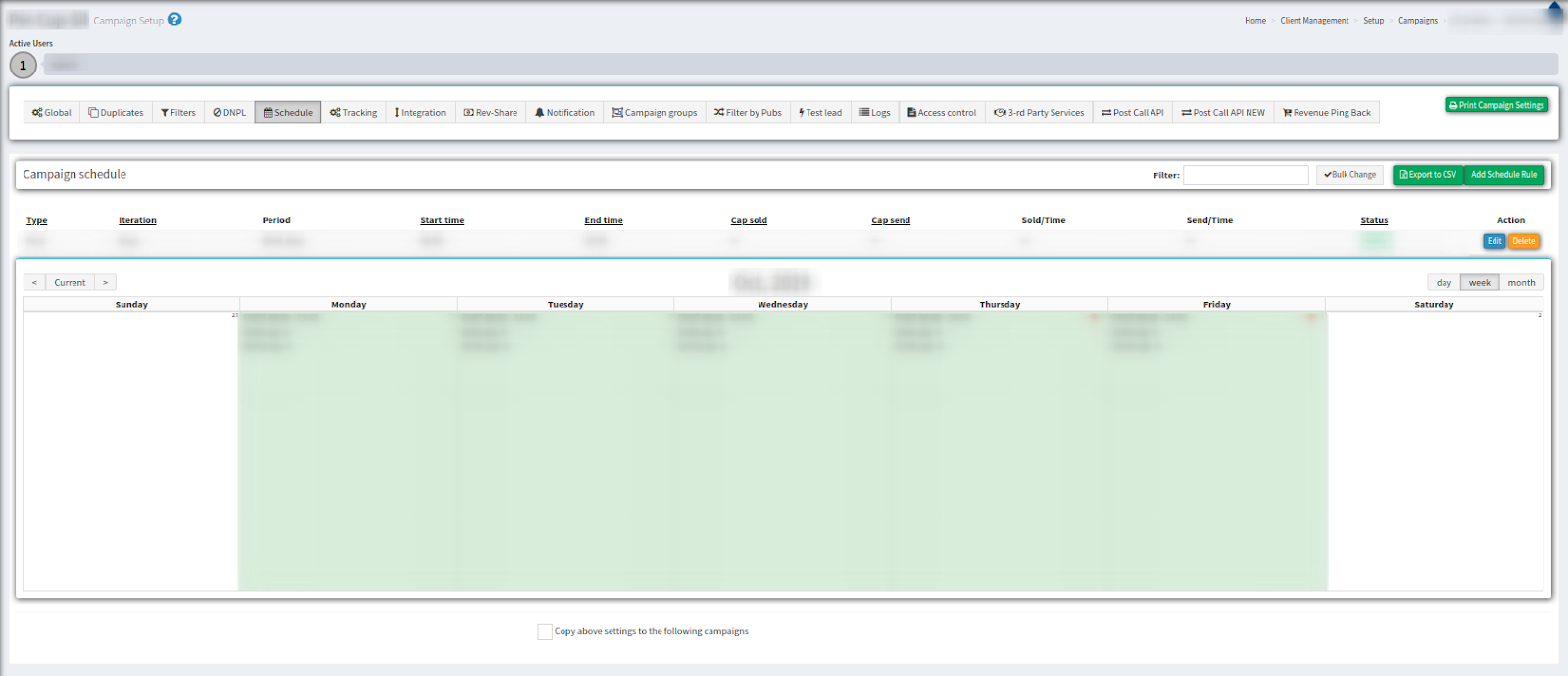 To add a new rule click the "Add Schedule Rule" button on the right side of the window and fill in the data fields in the form:
Action: Post / Do Not Post

Schedule Method: Days / Date Range. If the "Days" option is selected, you can select a required day of the week using corresponding checkboxes. If the "Date Range" option is selected, select the "Start Date" and "End Date" for the rule in the fields.

Start and End time: Enter the time range according to which the rule will work.

Sold and Send lead limits: Enter the maximum number of sold and send leads for the current Schedule Rule.
In the "Restrictions" block, you can set up the limits for the total amount of incoming leads and the time limitation for processing them through the system. You can manage the following values:
"Total Sold" - number of leads which was sold through the system
"Total Posts" - number of leads which was posted in the system
"In Minutes" - time range limitation for the number of leads, mentioned in the "Total Sold" and "Total Posts" fields.
To configure the existing rule, click the "Edit" button in the "Action" column. To delete the existing rule click the "Delete" button.
To copy the schedule feature for the current Campaign, check the box "Copy above settings to the following campaign" at the bottom of the main block, and the list of campaigns will appear. In the "Select More Campaigns" field, you can select the campaigns that you'd like to copy the rules to. Once selected, click the "Apply" button to save the configurations.
By default, the campaign schedule calendar will only display campaigns with an "Active" status and not display campaigns with a "Disabled" status.
To bulk remove Schedule Rules in campaign settings, use Mass Schedule Rule Removal. Click the "Bulk change" button (1) and select the checkboxes (2) of the records you want to delete. Tap the Red Basket to remove all selected rules.