The Global Unsubscribe option allows you to receive an unsubscribe request from email and SMS directly inside your system. This feature can be integrated through either, API or by using the built-in unsubscribe form. To enable the option go to the System Management > General > Project Settings section and expand the Additional Components tab. Scroll down to Advanced Tools and turn on the "Global Unsubscribe" option. Click the "Save" button to apply changes.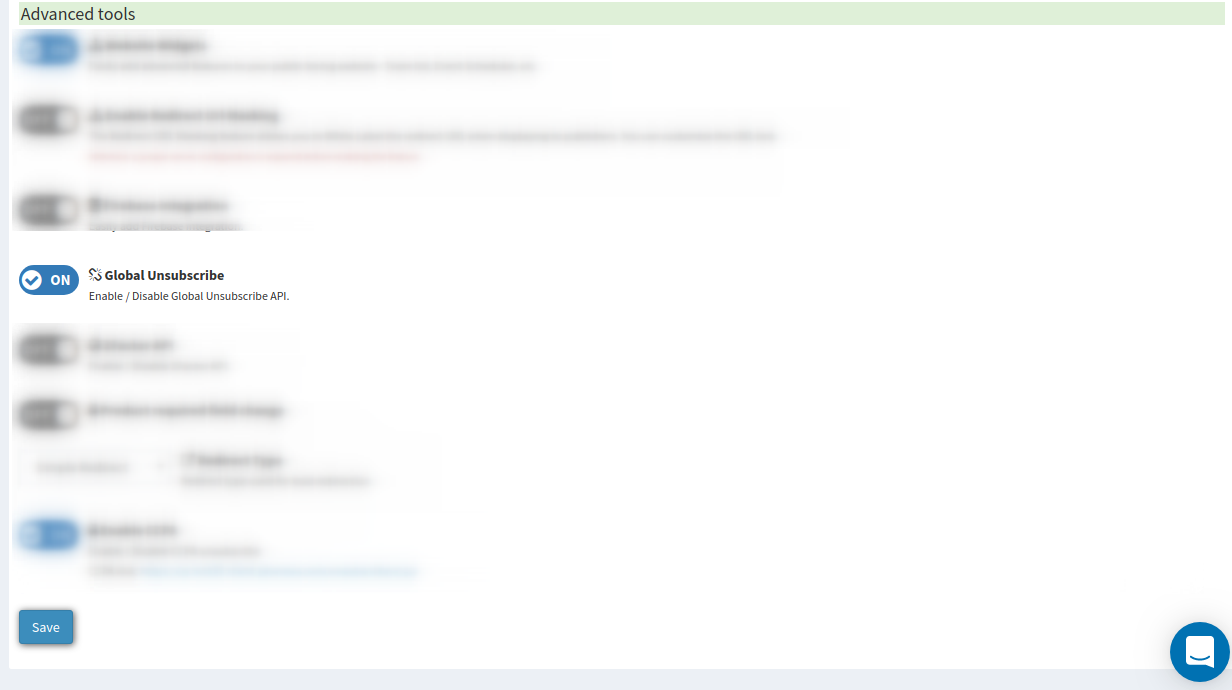 Unsubscribe form parameters:
ResponseType - Type of request, possible values: API, HTML (default).
Fields - A list of output fields separated by commas, possible values: email, phoneNumber, customField1, customField2, customField3, by default, email.
FieldLabel - Custom field headers to display on the form in the format of fieldLabel[customField1]=Label1
ProductId - The product identifier, the default is zero.
Website - the source site that produced the conversion.
Each of the fields customField1, customField2, and customField3 are displayed only if it is specified in the fields parameter and if it has a title in the fieldLabel parameter.
If for any of the parameters website, email, phoneNumber, customField1, customField2, customField3 the value is not passed, when saving the line NOT DEFINED will be used as the value
If the product identifier is not in the system, then the value of parameter productId = 0.
If the combination of the email + phoneNumber + website + productId fields is already present in the database, then the unsubscribeCount + 1 counter will be updated for this entry; otherwise, a new record will be added.
These fields require either an email or phoneNumber.
If responseType = API: the unsubscribe form will not be displayed, the process of unsubscribing will work immediately and will show a "1" in if it is successful and "0" if the email or phoneNumber are missing.
If responseType = HTML: The unsubscribe form will be displayed, and the validation of mandatory fields will take place. If successful, the message "You successfully unsubscribed" will display.
If the unsubscribe form is disabled in the project settings, then following the link (https:///reference/project?current-tab[0]=%23sub-component) will lead to a 404 response.
Examples of links:
Link to a form with custom fields
https:///unsubscribe/unsubscribe?productId=777&website=http://aa.cc&fields=email,phoneNumber,customField1,customField2&fieldLabel[customField1]=Country&fieldLabel[customField2]=City
Link for API:
https:///unsubscribe/unsubscribe?responseType=api&productId=777&website=http://aa.cc&fields=email,phoneNumber&email=foo@example.com&phoneNumber=+12345678900
To view the Unsubscribe report go to the All Reports > Extras > Global Unsubscribe section. How to use the Global Unsubscribe report you can read in the Knowledge Base.